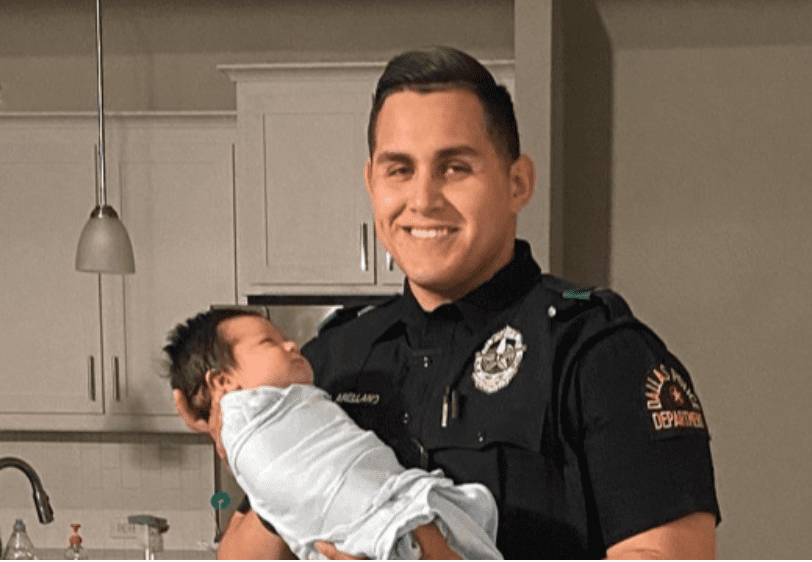 A 31-year-old woman faces a charge of intoxication manslaughter in the wrong-way crash death of a Dallas police officer, police officials announced Friday.
Mayra Rebollar was named as the suspect, according to a police news release, in the wrong-way crash that killed Officer Jacob Arellano late Tuesday night in southwest Dallas.
Rebollar was released from the hospital after being treated for her injuries and then booked into the Dallas County jail on Monday, Oct. 17.
Officer Arellano, 25, has been a member of the Dallas Police Department since June of 2019. He was assigned to Northwest Patrol Division, 1st watch.
Mass and visitation for Police Officer Jacob Isaiah Arellano, #11729, will be held at Saint Paul the Apostle Catholic Church in Richardson, Texas. Dallas Police Department Honors will be rendered at the end of the service.
Officer Arellano is survived by his parents, girlfriend and infant child. Officer Arellano is also survived by his brother, also a Dallas Police Officer.
Source: WFAA, ABC News
How would an injury attorney help the Officer's family?
An experienced personal injury attorney would assist the family in seeking compensatory damages. This type of award can be to reimburse them for medical treatments, medical bills, or any future expenses they may have due to an injury they sustained due to the negligence of another. These are typically referred to as actual damages.
Injured by a drunk driver? Call Stanley & Associates, Texas Injury Attorneys
If you or a loved one have been injured in a car wreck due to a drunk driver, contact Stanley & Associates for your free case consultation. We have represented thousands of clients across Texas and have over a decade of experience.
Our Texas car accident attorneys are available 24/7 to assist you. We work on a contingency fee basis, which means no fee unless we win. Call 844-227-9739
Dallas, TX -- An 8-year-old boy who rode his scooter inside the parking lot of a Far East Dallas apartment complex died Monday night after he was struck by a drunken driver, police say.
It happened about 7:10 p.m. on Monday, October 10, on the 3600 block of Dilido Road. Police said the driver of a blue 1992 Chevrolet pickup truck crashed into the child.
"You just heard a loud bang and a 'crack.' Just a loud 'bang' and kids screaming," said Lamartha Nash, who lives at the apartment complex and is close friends with the child's family. "My son was playing with him, he was just screaming, telling his friend to get up, and trying to help him."
Nash said they were playing outside on the street, which turns into a dead end.
"I guess he [the driver] didn't see him? But they were saying like he was drunk or had alcohol on his breath," described Nash. "They couldn't get him [the child] breathing here, his mom and my dad did CPR on him, they put a tube in him on the way to Children's, but didn't make it when he got there."
Kaden Rainwater, 8, attended S.S. Conner Elementary School.
Police said the driver, 30-year-old Miguel Martinez, stayed at the scene but was arrested on suspicion of driving while intoxicated. Martinez said that he had two Modelos between 3 p.m. and 3:30 p.m. but investigators state that Martinez had glassy eyes and a strong odor of alcohol from his breath every time he spoke.
After a DWI investigation, Martinez was arrested and charged with murder and DWI of two or more previous convictions. His bond totaled $600,000.
Source: NBC DFW