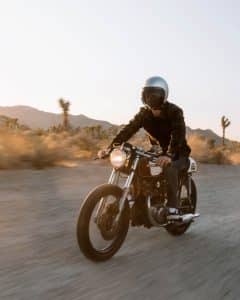 RIDERS SHOULD BE EXTRA VIGILANT
Risks and Dangers for Motorcyclists
No matter how safe the driver is, riding a motorcycle is inherently riskier than driving a car. When motorcyclists crash, they lack the protection of an enclosed vehicle so they are more likely to be injured or killed.
Motorcycles are less stable than passenger vehicles during maneuvers such as emergency braking and swerving and are less visible on the road. Per mile traveled in 2019, the number of deaths on motorcycles in the U.S. was nearly 29 times the number in cars. (NHTSA, 2021)
A proper helmet is the most important piece of motorcycle safety equipment. The federal government estimates that wearing a helmet reduces the risk of dying in a crash by 37 percent. Unhelmeted riders are 3 times more likely than helmeted ones to sustain traumatic brain injuries in the event of a crash. (NHTSA, 2008)
Dangers lurk around every corner when traveling and motorcyclists are harder to spot by drivers of passenger vehicles. Because of the compact frame of a bike, many motorcyclists are unintentionally cut off during lane changes by other motorists who did not check their blind spots or when passenger vehicles are exiting private driveways. Even worse, sometimes these acts ARE intentional due to no shortage of road rage.
UNFORESEEN DANGERS AND CIRCUMSTANCES
Check your bike BEFORE you ride
At Stanley & Associates, we know all too well the dangers motorcycle enthusiasts face on Texas roads. You can do everything right and still find yourself in the hospital with catastrophic injuries due to no fault of your own.
The last thing you might expect is your bike to be the source of your accident. It can be difficult to prove that a death or injury occurred as a result of improper maintenance on a motorcycle. We recommend that all repairs and adjustments be handled by an experienced mechanic and that motorcyclists only ride bikes that they have experience with and ride regularly. Maintain detailed records of all changes and adjustments to the bike.
In the event you or a loved one are injured due to improper maintenance of a motorcycle by another party, contact our office ASAP. When you hire Stanley & Associates, we will begin investigating the facts of your case right away. Call 972-833-8000