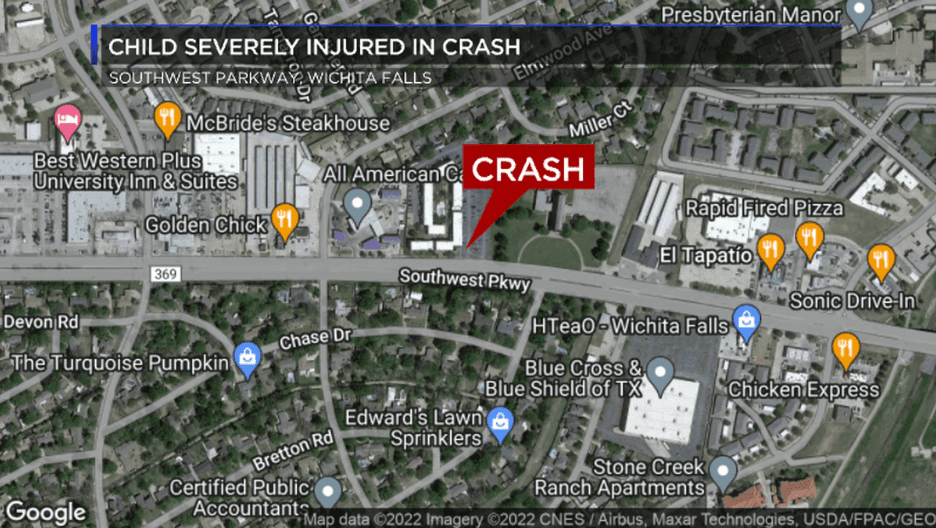 Wichita Falls, TX -- A Dodge Caravan was stopped on the road because of a mechanical problem when it was hit from behind by a GMC Denali. The force of the crash pushed the van into a telephone pole.
Wichita Falls Police are investigating the crash that occurred around 6:30 am Friday morning on Southwest Parkway near the intersection of Elmwood Avenue.
Sergeant Eipper says the driver of the Denali was not injured. All of the injures came from the occupants of the Caravan. The injured include a 25 year old female, a five-year-old and a two-year-old.
Eipper says the youngest victim suffered a severe head injury and was flown to Cook Medical Center in Fort Worth.
Source: KAUZ, CBS News Channel 6
Beaumont, TX -- A family of 11 from Henry County, Georgia, is mourning the loss of an 11-year-old boy after their car flipped while driving in Texas.
According to the Texas Department of Public Safety, 36-year-old Jamel Madison was driving his wife, 35-year-old Tracey Moseley, and nine children down I-10 near Beaumont, Texas just before 6 a.m. on Sunday morning.
The family was traveling in a Chevrolet Trailblazer SUV when another car changed lanes and cut the SUV off. Officials say Madison swerved to avoid hitting the car, but crashed into the concrete barrier, causing the car to flip.
Family members say 11-year-old Robert died in the crash. They also say one of the couples' daughters is paralyzed from the neck down and another of the daughters suffered a slipped disk.
All ten survivors of the crash were taken to the hospital for treatment after the crash.
The eight surviving children are between the ages of three and 16.
Family members also say the family's vehicle was totaled in the crash.
A GoFundMe campaign has been set up to help the family with medical and funeral expenses.
Source: WSB-TV
Corpus Christi, TX -- When officers arrived at the 7700 block of State Hwy. 358 at around 12:45 a.m., October 1, a Ram was on fire and the 28-year-old driver had just managed to get out of it.
The man was taken to a local hospital with serious, but non-life-threatening injuries.
The woman, who was driving a Honda CRV, died on impact in the head-on collision.
Police said their investigation determined the woman had been driving the wrong way in the left lane and they are unsure how she got onto the highway.
Source: 3News on KIIITV.com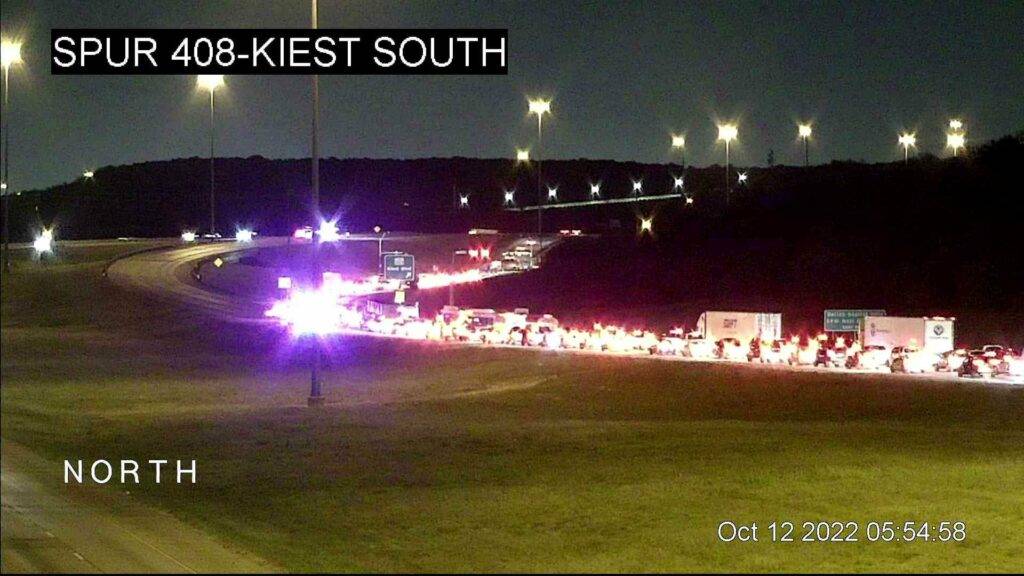 Dallas Police Chief Eddie Garcia confirms that Officer Jacob Arellano died this morning as a result of his injuries in a head on collision Tuesday night. Arellano was struck by a wrong way driver just before midnight while on his way to work in southern Dallas.
The crash happened at the Spur at West Kiest Boulevard. Police said the wrong-way driver hit the front left side of the officer's SUV, forcing it to go into the right lane and get hit by a tractor-trailer. The SUV rolled several times before stopping on the right shoulder of Spur 408.
The wrong-way driver was also hospitalized in critical condition. The tractor-trailer driver wasn't hurt.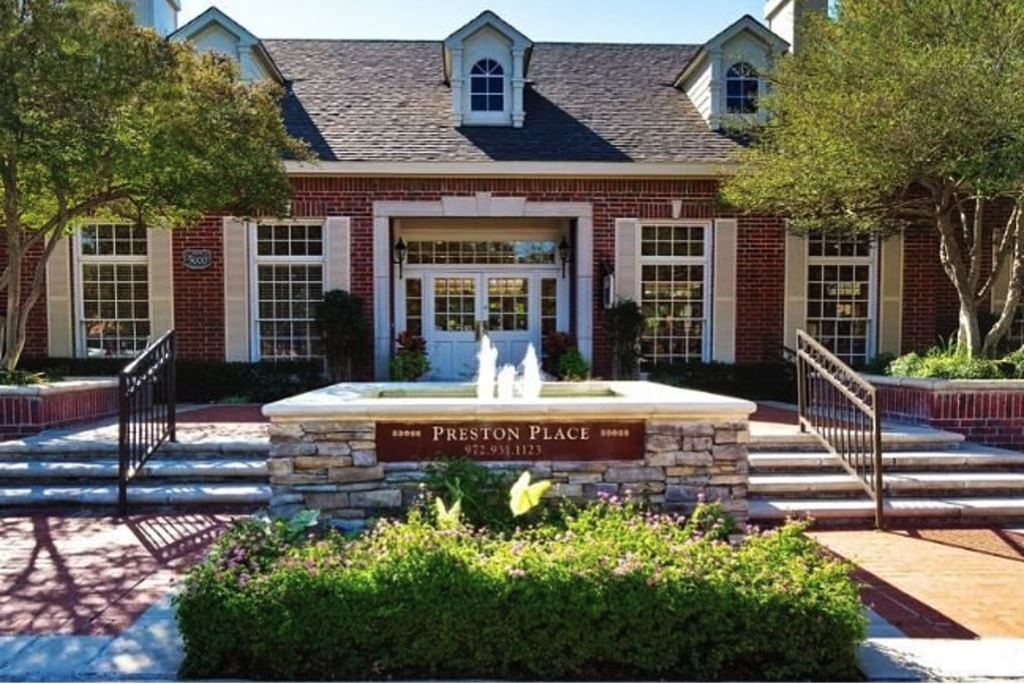 Dallas, TX -- A Dallas County grand jury took less than 30 minutes to hand accused senior living serial killer Billy Chemirmir his second capital murder conviction Friday. The trial over the death of Mary Brooks, an 87-year-old woman, began on Monday, October 3.
Dallas County District Attorney John Cruezot said that Chemirmir, who continues to proclaim his innocence, "made a living off of killing people to steal their jewelry," NBC-DFW reported. 
Following Friday's verdict, Creuzot said during a news conference that his office would dismiss the remaining 11 capital murder cases against Chemirmir in Dallas County, saying that Chemirmir will "die in the penitentiary." Collin County prosecutors have not indicated whether they will try Chemirmir on nine murder cases linked to him in the neighboring county.
Chemirmir is thought to be linked to at least 24 deaths — mostly of female residents of senior living communities — that took place in Texas between April 2016 and March 2018. Authorities said he posed as a maintenance worker to gain access to residences and then smothered the older adults before stealing their valuables. 
He first was arrested in March 2018 after an attack on Mary Annis Bartel in her independent living apartment at Preston Place retirement community in Plano, TX. Police reportedly found jewelry and other valuables belonging to alleged victims in Chemirmir's possession, and his cell phone records reportedly placed him in the vicinity of the alleged victims when they died.
Source: McKnight Senior Living
Dallas, TX -- An 8-year-old boy who rode his scooter inside the parking lot of a Far East Dallas apartment complex died Monday night after he was struck by a drunken driver, police say.
It happened about 7:10 p.m. on Monday, October 10, on the 3600 block of Dilido Road. Police said the driver of a blue 1992 Chevrolet pickup truck crashed into the child.
"You just heard a loud bang and a 'crack.' Just a loud 'bang' and kids screaming," said Lamartha Nash, who lives at the apartment complex and is close friends with the child's family. "My son was playing with him, he was just screaming, telling his friend to get up, and trying to help him."
Nash said they were playing outside on the street, which turns into a dead end.
"I guess he [the driver] didn't see him? But they were saying like he was drunk or had alcohol on his breath," described Nash. "They couldn't get him [the child] breathing here, his mom and my dad did CPR on him, they put a tube in him on the way to Children's, but didn't make it when he got there."
Kaden Rainwater, 8, attended S.S. Conner Elementary School.
Police said the driver, 30-year-old Miguel Martinez, stayed at the scene but was arrested on suspicion of driving while intoxicated. Martinez said that he had two Modelos between 3 p.m. and 3:30 p.m. but investigators state that Martinez had glassy eyes and a strong odor of alcohol from his breath every time he spoke.
After a DWI investigation, Martinez was arrested and charged with murder and DWI of two or more previous convictions. His bond totaled $600,000.
Source: NBC DFW
Is GAP insurance worth having?
Like most things in life, there are risks - good or bad - with every decision. Consider the financial costs of paying for insurance and also the risk that comes with not having insurance and losing such a huge asset. Could you afford to be without a car? Could you afford to keep paying for a car loan after the car has been totaled? Only you can make this decision for yourself.
GAP insurance is optional car insurance coverage that helps pay off your auto loan if your car is totaled or stolen and you owe more than the car's depreciated value. Keep in mind, GAP insurance will only cover the difference between your car's actual cash value at the time of loss and the amount you owe on your car loan. Of course, GAP insurance is not useful if the amount owed on the vehicle is less than the current value.
Do I still need to buy collision or comprehensive coverage if I have GAP insurance?
Most likely, yes. Many GAP insurance policies can only be bought if you have collision/comprehensive coverage for the vehicle. Collision coverage pays for damages resulting from a collision, regardless of who is at-fault. Comprehensive coverage pays for damages from non-collision events such as fire, vandalism or falling objects.
Both of these coverages will only pay for damages up-to the current Actual Cash Value (ACV) of your vehicle. If the damages exceed the value of your car, the insurance company will deem it a total loss.
Imagine a scenario in which you purchase a new car with a loan of $30,000. Your monthly payments are $300. 6 months later, due to an unforeseen circumstance, your car is totaled by your insurance company at a market value of $25,000. You have only paid $1,800 towards your loan at this point. Let's break it down.
| | |
| --- | --- |
| Purchase / Loan Amount | $30,000 |
| Amount Paid Towards Loan after 6 months | -$1,800 |
| Collision/Comprehensive Pays Actual Cash Value | -$25,000 |
| Total Amount Still Owed Without GAP Insurance | $3,200 |
| Total Amount Still Owed With GAP Insurance | $0 |
In the above scenario, GAP insurance will then pay for the remaining $3,200 owed to the loan company after your collision/comprehensive coverage pays the current cash value of your car.
Always read the terms and conditions of any insurance policy you purchase.
Just like collision or liability policies, GAP insurance policies have policy limits. Policy limits are the maximum dollar amount an insurance company will pay out for your vehicle. Some have a flat dollar amount and some cover an amount as a percentage of the actual cash value of your car at the time of loss. Make sure to choose a policy that will cover your financial situation.
If you've been seriously injured in a car accident, Stanley and Associates is here to help!
Call 972-833-8000 for a free consultation regarding your potential injury case. Don't let the insurance company tell you what your case is worth.
Insurance companies charge higher premiums to drivers who pose a high risk of liability versus drivers they consider to be low risk.
They take multiple factors into consideration, such as your driving record, your age, the type of vehicle you are insuring, and how you use the vehicle. Essentially, the less likely the insurance company thinks you are to be in an accident, the lower your insurance premiums will be. Be mindful that not all insurance companies play by the same rules.
Don't be discouraged to file an Uninsured or Underinsured motorist claim!
If you were involved in a hit-and-run accident or by someone who didn't have insurance (or not enough insurance), you should absolutely file a claim on your own policy. Why? Because this is what you've paid your insurance premiums for. Uninsured/Underinsured Motorist coverage protects you from this type of loss so that you don't suffer the financial burden alone.
Many insurance companies will not raise rates on their insured after a no-fault claim has been filed while some might. If you find that your insurance rates have gone up significantly, you can try to negotiate a better rate with your current carrier or begin looking for a new insurance carrier. If it is in their best interest to raise rates, it is in your best interest to find an insurance carrier that suits your needs, too.
Did you know that insurance companies in Texas are required to offer Uninsured Motorist coverage and Personal Injury Protection? If they fail to offer these coverages to you and obtain your signed, written rejection of these coverages, then this coverage may be applicable to you.
Beware of purchasing a "full coverage" insurance policy. This term is meaningless and causes confusion for many people thinking their injuries would also be covered just to find out they had a minimum liability policy with collision and comprehensive coverage for their vehicle only. Uninsured/Underinsured motorist coverage is not required per Texas statute but is highly recommended in case you are seriously injured in a car wreck.
If you've been in an accident and are unsure what to do, consult with our law office today by calling 972-833-8000. We have two decades of combined experience in accident injury law. We fight to protect our clients' rights, help them seek medical treatment, and win compensation for their injuries.
Why should you include PIP on your insurance policy?
Because it can help cover some of your lost wages and medical bills or expenses incurred whether you caused the accident or not. Liability coverage only pays for damages you cause to other people and Uninsured or Underinsured Motorist coverage will only cover your medical expenses if you did not cause the accident.
Be wary of any insurance agent that tries to sell you a "full coverage" insurance policy. "Full coverage" is a meaningless term as far as insurance coverage goes.
Personal Injury Protection in Texas
In Texas, insurers are required to offer PIP when purchasing an insurance policy OR they must obtain an authorized signature from the policy holder rejecting the coverage. One caveat is that if there is no signed written rejection, you are covered. It is up to you to reject this coverage.
$2500 is the minimum amount of PIP coverage that auto insurance companies are required to provide. Depending on the company you choose, you can select up to $10,000 or more in PIP coverage if requested. We recommend that you obtain as much PIP coverage as your insurer will sell you due to the astronomical costs of medical care.
Unfortunately, many Texans often do not include this beneficial coverage on their policies because they are unaware that:
PIP coverage is often more affordable than they think
in addition to medical bills, PIP can be used for lost wages, up to 80% of lost income, and reasonable household duties
rejecting this coverage could potentially cost them more if they are ever seriously injured in a car accident
Stanley & Associate's Recommendation
The attorneys at Stanley & Associates recommend that drivers include Personal Injury Protection in their auto insurance policy. Due to the rise in the cost of medical bills, we recommend that you carry $10,000 in coverage or more. Even the minimum $2500 can help with out-of-pocket expenses from your injuries.
We aim to help assure any doubts you may have so you can be confident and informed when making your decision. Let's go over the top 5 reasons why it's worth hiring a personal injury attorney.
1. Insurance Companies Do NOT Have Your Best Interests In Mind
They are only interested in protecting their bottom line. They have teams of attorneys looking for ways to minimize the amount of money they pay-out to badly injured victims. You should have an attorney fighting for you and your rights.
2. Injury Attorneys Help You Seek Medical Treatment
Many injured victims don't realize how severely they were hurt without proper medical treatment and professional diagnosis. Not to mention, insurance companies will actively discourage treatment so they don't have to pay. We help find doctors so you can be seen ASAP instead of waiting weeks through your regular healthcare network.
3. Proving Your Case Is Complicated and Time Consuming
Our personal injury law firm has decades of experience handling scrupulous insurance companies and navigating the legal challenges an injury claim presents. You can count on our attorneys to fight for you while you recover and get back to your normal routine.
4. Injured Victims with Legal Representation Receive Larger Settlements
Why manage a case on your own when you can have a legal team do it for you? Insurance companies know that claimants are not trained negotiators. According to a report conducted by the Insurance Research Council, settlements were 40% higher when claimants were represented by a lawyer. Our attorneys know the tricks and strategies that will lead to the best resolution.
5. If You Don't Win, You Don't Pay
There is no cost to you up front - no legal fees of any kind. Seriously. You won't have to worry about "billable hours." Our attorneys will work your case on a contingency fee basis which means you pay nothing unless you win. There is no out-of-pocket cost to hire a personal injury attorney. Attorney fees are deducted from your settlement offer if a satisfactory outcome is achieved.
If you're unsure if you have a case, give us a call at 972-833-8000 for a free case review. There is no obligation to hire an attorney for your free consultation.